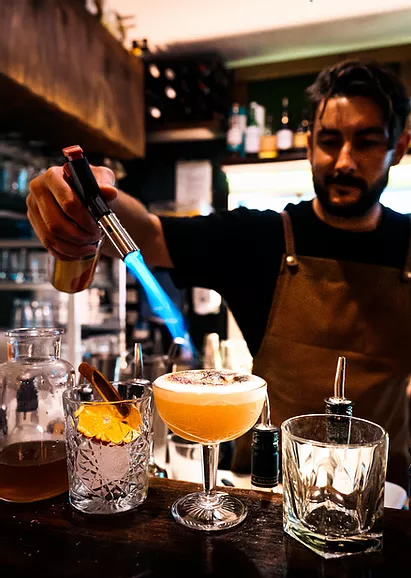 Asian Street Food & Cocktail Bar
Born out of a sense of adventure and exploration, Mr Drifter on Sunshine Beach Road in Noosa Junction delivers Asian street food with a hint of cocktail culture. Founder Charlie Harrison has lived in Indonesia and Japan and his parents grew up in colonial India– you could say a taste for spice and rich flavours is hereditary – and that's what is on the plate at Mr Drifter. Rustic timber, walls adorned with vintage postcards and exposed brick combine set a chilled-out vibe for guests to enjoy live music and a unique dining experience.
Warmth, Flavour, Service
My adult family dined out at Mr Drifter for a birthday celebration. Being a group of 8 with 50% vegetarians, we had the "Feed Me" banquet experience, and were not disappointed. The food kept coming, with wonderful variety and excellent quality. On a cool night, we enjoyed the warmth of the heaters and the atmosphere, with a vibrant, unfamiliar soundtrack playing throughout adding to the Asian flavours. If you're not into coriander, spices and curries, this may not be your scene, but it was definitely ours.
Great street food, service & coctail menu
Wow! What a find! Great street food, service & cocktail menu; bonus with a DJ spinning great vinyl tunes. Food is amazing for the price and will be back each time I'm at Noosa.
Excellent Food
Had lunch at Mr Drifter and the drifter rolls were fantastic. The curry sauce with the roti bread was amazing. What a great find.
Amazing food, better cocktails
Met up with friends for new years drinks. The cocktails are so good, their Sangria is the best ever had worldwide!! Their meals are fast & bursting with flavour. I can't wait to bring other friends here.
Great atmosphere and food
Picked this place after walking past it the night before because it looked like it had a great feel - the menu looked good too. We had a couple of starters and shared a curry for dinner Had a couple of beers too. Great options - heaps of choice for vegans too. Well worth a visit, may need to book during busy times.
So good.
Mr Drifter is our favourite spot in the junction to eat lunch or dinner. We love the menu, the food is so tasty and great for sharing with friends. It's a very vibrant place to eat and if you can, try to make it there for a live music night!